Sunday 19th February, 11am, 1.30pm & 3.30pm
Due to phenomenal demand additional show added at 3.30pm!
"Spout, handle, lid of metal. What's inside THE SINGING KETTLE…"
In a brand-new show, the Singing Kettle's founder, Artie dusts off the kettles and asks the audience to say the famous rhyme.
Inside clues to the silliest songs he can remember from the vast Singing Kettle repertoire:
"Little Duckie Duddles", "That's What I Learned in the School" and, of course. "Ye Cannae Shove Yer Granny aff the Bus".
Wear a Funny Hat to the show and join the party atmosphere.!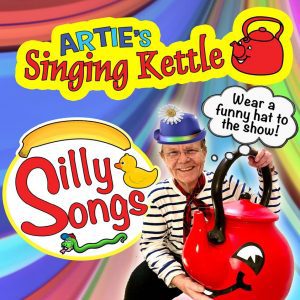 Ticket Price
All Tickets £10
OFFER – 4 tickets for £35
Box Office
You can book with us online, over the phone or in person.
Booking Online:
Online booking is available for this performance. Please follow the Book Now buttons.
Telephone Booking
Telephone booking is available for this performance. Our Box Office team can be contacted at 0141 577 4956. Local charges apply. During busy times, please leave a message for our Box Office Team.
Booking In Person:
Our Box Office is open:
9am – 8pm Monday – Friday
9am – 4.30pm Saturday and Sunday*
* 8pm on performance evenings
Additional Information
Booking Charges
We do not charge booking or transaction fees for any of our performances. Please note, the preferred ticket delivery option is E-ticket.
You can log-in to view your order &  e-ticket here
Open Booking Form
Eastwood Park Theatre
Facilities
Free WiFi
Free Parking
Cafe & Bar
Box Office
Address
Eastwood Park Theatre, Rouken Glen Road, Giffnock, G46 6UG
Email
BoxOffice@ercultureandleisure.org
Social
You may also like
March 4th, 2023
Peter and the Wolf
Children's Concert
Entry fee from: £12
April 15th, 2023
DISNEY'S Robin Hood (1973)
Cinema Screening
Entry fee from: £5
June 24th, 2023
Abbamania
Live Music
Entry fee from: £25
1
Our Newsletter
Be the first to receive all the latest, news, offers, and event info