SUNDAY 12TH MARCH, 7.30PM
Que Sera Sera is a magnificent show that pays homage to one of Hollywood's greatest stars – Doris Day. 
Celebrate the lady and the music as we take our audience on a factual musical timeline through Doris Day's career in music and film.  
We start at the beginning of her career during the big band days and then take you on a 'Sentimental Journey' to the Hollywood movies that made her the legend that is Doris Day. 
This show will be your 'Secret Love' as our three international vocalists supported by a team of professional dancers perform these beautiful songs leaving you feeling 'Bewitched, Bothered and Bewildered' and full of nostalgia – simply wishing we were back to those good old days.  
Que Sera Sera has wonderful music and great costumes all complimented by stunning choreography and video projection depicting some wonderful vintage footage of a bygone era.  
The show is a fan's tribute to the fantastic songs and memories that Doris Day and her music gave every generation.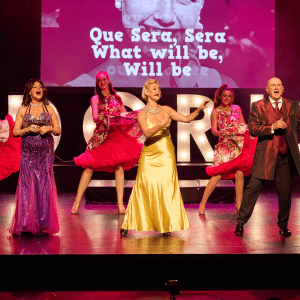 Ticket Price
Box Office
You can book with us online, over the phone or in person.
Booking Online:
Online booking is available for this performance. Please follow the Book Now buttons.
Telephone Booking
Telephone booking is available for this performance. Our Box Office team can be contacted at 0141 577 4956. Local charges apply. During busy times, please leave a message for our Box Office Team.
Booking In Person:
Our Box Office is open:
9am – 8pm Monday – Friday
9am – 4.30pm Saturday and Sunday*
* 8pm on performance evenings
Additional Information
Booking Charges
We do not charge booking or transaction fees for any of our performances. Please note, the preferred ticket delivery option is E-ticket.
You can log-in to view your order &  e-ticket here
Open Booking Form
Eastwood Park Theatre
Facilities
Free WiFi
Free Parking
Cafe & Bar
Box Office
Address
Eastwood Park Theatre, Rouken Glen Road, Giffnock, G46 6UG
Email
BoxOffice@ercultureandleisure.org
Social
You may also like
June 24th, 2023
Abbamania
Live Music
Entry fee from: £25
August 3rd, 2023
Ireland The Show
Live Music
Entry fee from: £25
April 21st, 2023
Down for the Count play the Great American Songbook
Live Music
Entry fee from: £28
1
Our Newsletter
Be the first to receive all the latest, news, offers, and event info