 Business, Industry and Working Life
Business, Industry and Working Life
The Industrial Revolution of the mid-18th century in Britain, heralded a great change in peoples' lives right across the UK. Over the following 200 years, East Renfrewshire would change from being an agricultural society with a small scattered population, to a more urban area with villages and towns growing to feed the developing industries.
It wouldn't be true to say that there was no industry before this time, but it was small scale and mainly home based. It was the arrival of machinery which allowed the mass production of manufactured goods that really changed everything.
The first industry to have a massive impact on this area was the textile industry. East Renfrewshire's natural landscape, with its network of rivers, provided a plentiful water supply, which was the key ingredient for bleachworks, print & dye works and cotton mills, and these quickly sprang up along the banks of local rivers like the Levern, the White Cart and the Auldhouse burn.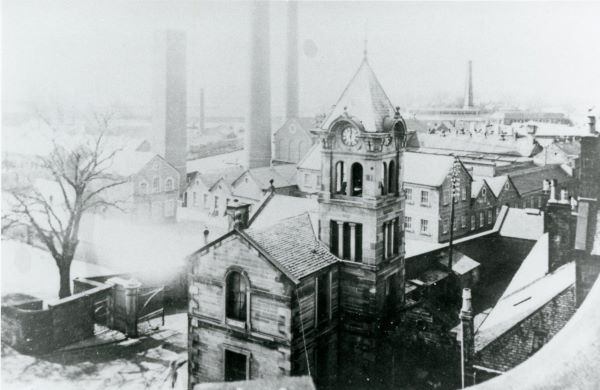 At the same time, landowners were also capitalising on the mineral deposits underneath their feet. Quarries were dotted all over the landscape as commodities including coal, lime, alum and stone was extracted for a variety of uses. The most well-known local enterprise was the sandstone quarrying in the Giffnock area.
Over time, the source of wealth had started to shift from those born holding land and status to those who had the ingenuity to make their own fortune. Local entrepreneurs began to establish businesses in heavy industry and engineering, with Shanks of Barrhead and Anderson's Garage in Newton Mearns being prime examples.
The growth of the towns, which resulted from these industries, also encouraged the spread of all the amenities and services that residents needed for everyday life. Shops, cafes, public houses and many other businesses thrived in the local towns and villages.
This section will explore all these different businesses and industries and the impact they made on the local area.