 In 1913, Glasgow Corporation bought Southfield Estate along with four of its neighbouring farms (Hazelden Head, Westfield, Eastfield and Langrig), with the intention of using it as a country home for children who were not thriving and at risk from tuberculosis. The mansion house was to be kept as an administrative building, and there were to be 300 beds for children and 160 sanatorium beds for adults. However, these plans were delayed by World War 1.
By 1919, when the plans were revised, the mansion house was in such poor repair that the decision was made to demolish it.
On 9 May 1930, the new Mearnskirk Hospital opened as a tuberculosis hospital for children under the age of 15. The first patients were a group of children transferred from Robroyston Hospital in Glasgow. Ironically, on behalf of the staff of Robroyston Hospital, one of the group, 6 year old George McEwan, presented a gift of a large box of cigarettes to the new superintendent, Dr. John Wilson.
The hospital was officially opened on 12 October 1932 by HRH the Duchess of York, the late Queen Mother, who planted a tree to commemorate the event. Sadly this was removed in error when the site was developed.
The hospital was known for its beautiful appearance. In 1930, much of the housing in the area had not yet been built and it would have been surrounded by farmland and greenery. The hospital grounds were beautifully landscaped and well tended, and the red brick buildings designed by J. A. Houston were very attractively designed.
Dr. John Wilson and Peter Pan
The first superintendent of Mearnskirk Hospital was Dr. John A. Wilson, OBE. Dr. Wilson had served in World War 1 and had also carried out research work in bacteriology. He joined the tuberculosis service of Glasgow Corporation in the 1920s, and took up his post at Mearnskirk in 1929 when it was still being built. He was highly respected and, while he worked at Mearnskirk, was also senior lecturer in clinical tuberculosis at the University of Glasgow. He held both posts until his death in 1946.
Dr. Wilson, had arranged for several small cement statues of children's figures to be erected in the hospital ground for the amusement of the young patients and had always hoped to erect a bronze statue of Peter Pan, but died before this dream could come to fruition.
In his memory, his friend and hospital benefactor Alfred Ellsworth launched a fund for this purpose, and on Sunday 5 July 1949, the finished statue by sculptor Alex Proudfoot RSA, Principal of Glasgow School of Art, was unveiled. It was a happy event with music from the Kirkintilloch Junior Choir and Springburn Military Band. Over 300 people attended.
The pedestal of the statue was originally decorated with four bronze panels depicting scenes from Peter Pan. No longer there, these panels were thought to have been stolen. Happily one of the panels was recovered recently and has now been placed on the wall of Hazeldene Nursery school. The unveiling ceremony took place on 3 July 2007, amid much celebration. Children from the nursery school performed to assembled guests and a display on the history of the hospital was on show, courtesy of Mearns Local History Group. The statue was unveiled by Fred Ellsworth, the grandson of Alfred Ellsworth.
Work of the Hospital
Tuberculosis or TB as it is commonly known, is an infection caused by a germ called the tubercle bacillus or Mycobacterium tuberculosis. Up until about 50 years ago when anti-tuberculosis drugs were developed, it was a very common cause of death and flourished in large overcrowded cities like Glasgow.
Mearnskirk was seen as an ideal place for a tuberculosis hospital. At the time, Mearns was mainly agricultural and not as built up as it is today, and offered its patients a healthy environment in which to recover. As stated in the hospital's Golden Jubilee booklet, early treatment consisted mainly of 'rest, fresh air and good wholesome food'.
Although it originally opened as a hospital for children under the age of 15 suffering from tuberculosis, later on adults began to be admitted, and in 1946 a thoracic unit was added to deal with pulmonary tuberculosis.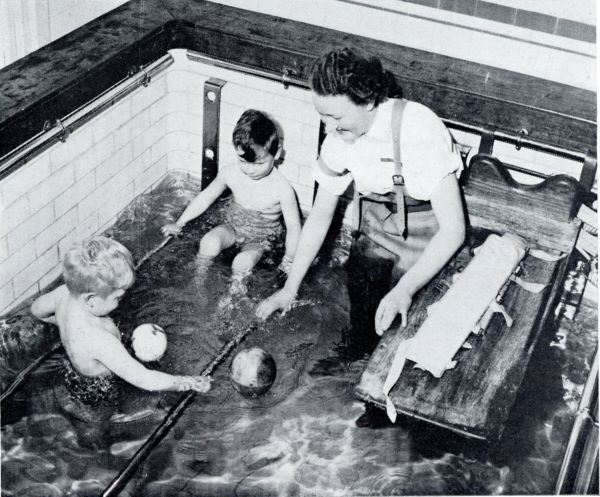 In 1940s Britain, another terrible childhood disease reared its head to epidemic proportions. 123 patients, mostly children were admitted to Mearnskirk suffering from poliomyelitis. This disease was treated with corrective surgery and physiotherapy including hydrotherapy; an innovative underwater exercise bath was installed in the hospital for this purpose.
As time passed, TB began to be less prevalent and the polio vaccine was introduced. The cardio-thoracic department was now able to turn its attention to heart surgery and became recognised as the principal cardio-thoracic referral centre for the south-west of Scotland. The hospital also began to accommodate elderly patients, providing long-stay care with physiotherapy and occupational therapy.
In 1948 control of the hospital moved from Glasgow Corporation to the National Health Service (Board of Management for the Glasgow Victoria Hospitals). In order to assist the Education Health Service with the large numbers of children suffering from ear, nose and throat problems, two ENT units were opened in the hospital. By 1959, it became a general hospital and in 1971, two state of the art operating theatres for cardiac surgery were opened.
In the 1990s, a policy of centralisation brought about its closure and the site was sold for residential development.
Life for the Patients
Patients suffering from TB often had to spend a long time in hospital, perhaps years. To ensure that the children did not fall behind in their education, the hospital employed a teacher and ran its own school. Other activities such as Guides, Scouts and Sunday School took place to amuse the children and the hospital staff believed that this was important to their recovery. A further facility was added when the Princess Elizabeth playground was opened on 9 August 1952.
A souvenir brochure celebrating the hospital's silver anniversary comments on the importance of this aspect of hospital life:
The majority of the children in its wards suffer from physical disabilities and the treatment they require is often prolonged. It follows that, in addition to the modern methods of treatment applied, much has to be done to cater for the educational, psychological, spiritual and recreational requirements of the patients.
The presence of so many children in the wards, the nature of their disabilities and the length of their stay, create in the hospital a special atmosphere and provide an appeal which accounts for the extensive welfare activities undertaken voluntarily by a host of friends. There is thereby added to the work-a-day life of the hospital something which can be best described as 'The Spirit of Mearnskirk'.
(Extract from 'Mearnskirk Hospital, 1930-1955: A Pictorial Album', 1955, p5)
Philanthropist Alfred Ellsworth MBE was a great supporter of the hospital and arranged for many celebrities such as Judy Garland, Danny Kaye, Dorothy Lamour, Mae West and Roy Rogers (with his horse) to visit the hospital.
The War Years
Initially, during World War II, the hospital was evacuated and the children sent home or sent to Millport.
However, on 18 September 1940, HMS Sussex was hit by a German bomb at Yorkhill dock. It was close to the Royal Hospital for Sick Children at Yorkhill and out of concern for their safety, a decision was made to evacuate 300 children and staff to Mearnskirk.
Mearnskirk was designated an Emergency Medical Service Centre during the war and 15 wards were added in the form of huts. Over the next 6 years, the hospital treated 30,799 naval personnel and 1,810 civilian casualties.
Mearnskirk Hospital Grounds Today
In the 1990s, the site was sold to a consortium of developers, who built 261 houses and 107 flats on the site.
Six of the existing hospital buildings were B-Listed and some were retained and enhanced by the builders, including two for community use. The hospital administrative unit was redeveloped as 'Hazeldene House' nursery school, run by East Renfrewshire Council, and another building was redeveloped as a long-term continuing care hospital called Mearnskirk House. Mearnskirk House closed in 2019.
John Dickie Homes won a Civic Trust award in 1999 for the development of the former nurses home, now named Southwood Place.
Further Reading
The following titles are available in Giffnock Heritage Centre:
Dale, Alexander, Mearnskirk: Another Six Years 1955-1960: Completing the story of the hospital's first thirty years, published on the occasion of the garden Fete, 13th May 1961
Loudon, Anne & Kidd, David, Old Newton Mearns, Stenlake Publishing, 2001
Slater, S D & Dow, D A (eds), The Victoria Infirmary of Glasgow 1890-1990, Victoria Infirmary Centenary Committee, 1990
Williams, Lesley (revised by Loudon, A), Mearns Matters, Stenlake Publishing, 2003
Mearnskirk Hospital 1930-1955: A Pictorial Album illustrating the life and work of the hospital, published on the occasion of the Hospital's silver jubilee 1st May 1955
Mearnskirk Hospital: Golden Jubilee, 1980
The SCAN website contains an online exhibition about Mearnskirk Hospital, based on an exhibition mounted by the Royal College of Physicians and Surgeons of Glasgow in 2001: Mearnskirk Hospital: An Exhibition