 Mansion houses in Giffnock
Mansion houses in Giffnock
Eastwood House, Giffnock
Eastwood House is a beautiful C-Listed county house situated in the middle of Eastwood Park. It is now managed by East Renfrewshire Culture & Leisure Trust as a corporate and community facility, and as well hosting a wide range of events, is a popular wedding venue. However, it has a long and interesting history.
The lands of Eastwood including Eastwood Park were originally owned by the Earl of Eglinton. In 1812 the barony was sold to John Anderson, who then sold it in parts a month later. The land which now includes Eastwood Park was bought by joint purchasers, David McHaffie and Thomas Graham. McHaffie and Graham later split the land, with Graham retaining the portion with Eastwood Park. In 1822, it changed hands once more and was sold to Robert Thomson Senior, passing to his son Robert Thomson Junior, after his death in 1832. Robert Junior immediately gave it to his brother Neale Thomson of Camphill. We don't know exactly when the mansion house was built, but we do know that in 1845, when it was sold by Neale Thomson of Camphill to Thomas Smith, an advert for the sale mentions a mansion house built 10 years previously, dating it to the mid-1830s. This is much earlier than previously thought and we can conclude from this that it was built by one of the Thomsons.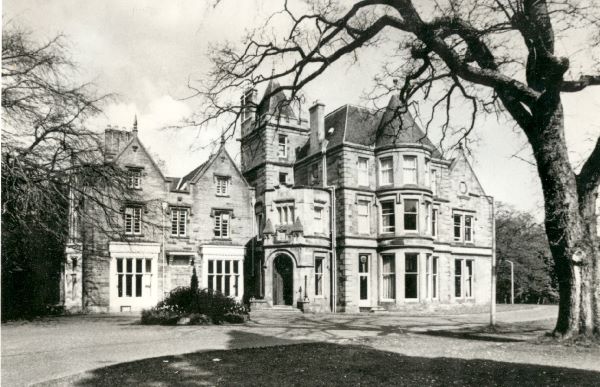 Thomas Smith was a wealthy Glasgow merchant, and in the 1851 census describes himself as a 'West India Merchant'. By 1857 he and his family had moved into nearby Crosslees House and rented Eastwood House to Joseph Colen Wakefield, a partner in Inglis & Wakefield, who owned the nearby Busby Printworks. Joseph eventually bought the house and surrounding land, but sold it in 1877 to David Tod who was a founder of Tod & MacGregor, the Glasgow shipbuilders. Tod is believed to have enlarged the house, with the addition of bow windows and a new entrance. The last prominent owner was William Douglas Weir, later Lord and then Viscount Weir, who was the founder of G & J Weir and Co, Cathcart and also minister of munitions during WW1.
William Weir bought the estate in 1914; at that time it was described as, "a solid, Victorian mansion, not over large, opulent without ostentation." During World War 1, Weir became a member of the Ministry of Munitions and Secretary of State for Air. The six pillared black and gold entrance gates to the park were presented to Lord Weir, after 1945, as recognition for his contribution during World War Two. While the Weirs occupied the house there were many famous visitors. King George V and Queen Mary visited, with their royal train being stationed at Whitecraigs. Laurel and Hardy opened a fete there, and there were also visits by Sir Harry Lauder, Stanley Baldwin and General Smuts. Renfrew County Council acquired the estate in 1968 and the mansion house was completely renovated and opened by Viscount Muirshiel in 1971.
Rhuallan House
Rhuallan was one of the first mansion houses to be built on the right-hand side of Fenwick Road, as you head towards Giffnock, and is constructed of sandstone. The plot of ground was first feued in 1880; in 1892 it was acquired by William Brown, a coal merchant, who appears to have had the house built on it. It remained in this family's possession until 1940 when it passed into the hands of the British Legion.
After World War II it was used as a club for ex-servicemen. The Legion donated it to the First District Council of Renfrew in 1956 and from July 1957 until August 1982 it housed Giffnock Branch Library. More recently it was used as a community facility, housing various clinics, educational classes, and hired out for various functions. I has since been sold by East Renfrewshire Council and is now a private residence once more.