 Mansion houses in Thornliebank
Mansion houses in Thornliebank
Thornliebank House
Thornliebank House, also at one time known as Birkenshaw House, stood in what is now Rouken Glen Park, Thornliebank, on the southern boundary of Eastwood Parish.
In 1829 the owner of the estate was Dugald Bannatyne, Postmaster of Glasgow. John Smith, a builder, purchased the estate in 1839 and it may have been his architect son, James, who first enlarged the mansion.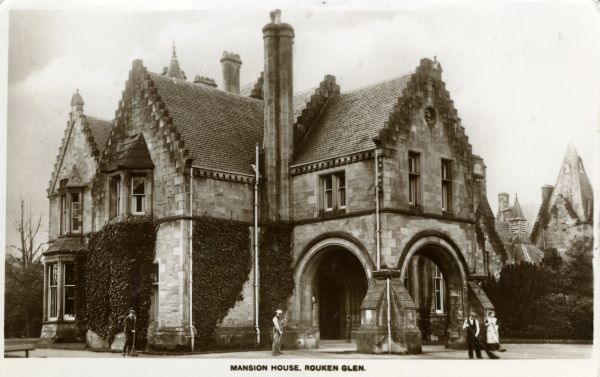 In 1858 the estate was acquired by Walter Crum, a Glasgow bleacher and dyer in Glasgow who set up extensive textile works in the Thornliebank area. His son, Alexander, made many alterations to the building and changed the name to Thornliebank House in 1879, after the Crum's original small mansion house situated within the printworks. Alexander was a keen gardener and was responsible for much of the layout of Rouken Glen.
When Alexander died suddenly on 28th August 1893, the house passed into the hands of his brother William Graham Crum, who eventually sold the estate to Archiebald Cameron Corbett, MP (later Lord Rowallan) on 19th May 1905.
In 1906 Cameron Corbett, gifted the estate to the 'citizens' of Glasgow for all time and it was officially opened as a public park on Saturday 25th May 1906. During the Second World War, the house was used as a military base but deteriorated so much in later years that it was demolished in 1963.