 Design & Innovation
The name Shanks & Co. became synonymous with design and innovation. Indeed it was the inventions of the founder John Shanks that initially secured the company's place as a market leader.
John's first patent, a closet with a plunger valve and a ballcock to fill up the basin, was taken out in 1864, and became known as the No. 4. It superseded the old pan closet and became successful across the country.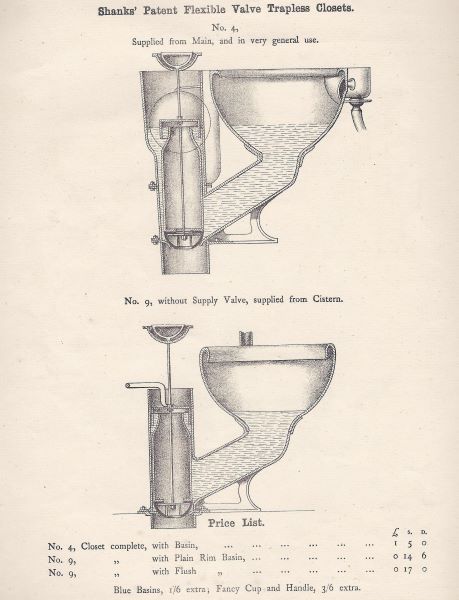 Another important invention was the No. 39, which was an underline ships closet – a toilet that was revolutionary in its capacity to be installed below the waterline. It is said that John pawned his gold watch to pay the patent fees and though it was not particularly lucrative, it was the beginning of a move into producing sanitary appliances for ships, which became an important part of their trade.
In 1877 John took out a patent for the Imperial bath which was a bath 'having the shelf on it, with the waste and overflow cast on'. The bath and a matching toilet became successful products for the company.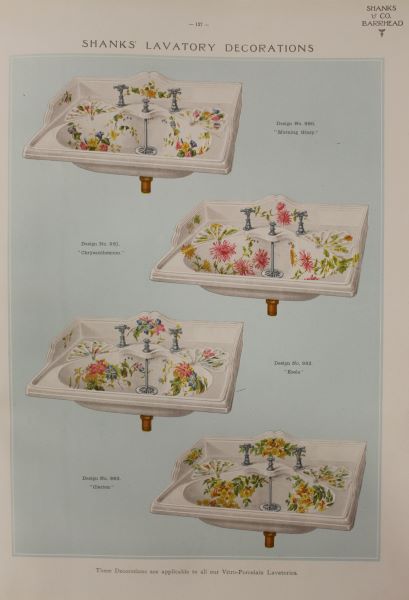 Shanks & Co. would exhibit their products at high profile events. At the 1901 International Exhibition in Kelvingrove Park, Glasgow, Shanks were granted the licence to install all sanitary fixtures in the exhibition and were allowed to recoup their investment by charging for their use. The money generated more than covered the investment and was a great marketing strategy.
At the 1938 Empire Exhibition at Bellahouston Park, Shanks' exhibits included a new luxury suite, designed especially for the occasion, called the Strathmore.
The company won many medals and awards for their designs. In 1958 their Carlton basin won a design award from the Council of Industrial Design.
As fashions changed throughout the 20th century Shanks were continually producing new designs and ranges. In the 1960s this included producing bathroom suites in 'fashion colours', two notable shades being Savannah and Sun King.