 Staff at Shanks
It was not only members of the Shanks family who devoted themselves to the business. Many long serving employees contributed to the success of the company over the years. Here are just a few.
Peter Baird Grandison ( 1848 – 1915)
P. B. Grandison was a larger than life character, who joined the company in 1886. While working as cashier to the Shanks' solicitors Brownlie, Watson & Beckett he suggested to the Shanks family that he come to work for them instead.
One of his reasons was personal. While at Brownlie, Watson & Becket, he had arranged a loan from the Heys family to Shanks & Co. and as he thought that Provost John Heys had shown a lack of courtesy to his cousin during a business transaction, he was determined to improve Shanks' finances so that the loan could be paid off quickly.
Grandison was most often seen dressed in a fur coat and tall hat. Historical notes left by William Shanks describe Grandison as ruthless when chasing debtors; one of his favourite devices was sending a postcard bearing the sum owed and nothing else. However, William also states that he was "heart and soul bound up in the success of the business."
From 1901 Grandison served on the Town Council, advising them on financial matters and taking on court work as a magistrate.
He died suddenly of heart failure in 1915, aged 68, whilst on holiday in Rothesay. He was given a public funeral, and shops and business in Barrhead closed and pulled down their blinds until the procession passed.
Thomas M. McInnes
Thomas came to Shanks in 1894 as the only draughtsman, and the Drawing Department was built around him. In 1918 he was put in complete charge of all marine work, and the marine branch became an independent section of the business. He became a director in 1919.
During WW2, he gave up his executive duties due to ill health, although remained a director. He was succeeded by James Jack.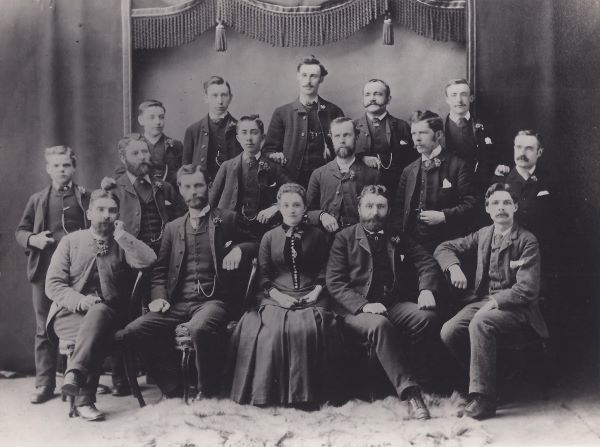 Andrew McCorkindale
Around 1896 Andrew became Works Manager after being foreman of the Sheet Metal Department and eventually became a director in 1911.
In his historical notes, William Shanks says of Andrew:
"The first year of McCorkindale's management was the best year we ever had up to this point. Since then he has been a tower of strength in the management of the Works. He has devoted his whole time and attention to his duties. His unfailing zeal and capacity for handling men are characteristics that have combined to make of him a very fine and strong personality."
Gilbert Shanks recalls that although Andrew had a commanding presence and could always keep the foremen and workers on their toes, he was never anything but helpful and sympathetic.
Sadly, he could not take over the new Tubal Works as his health was failing, and retired shortly after its completion and died in 1928.
T. A. McIntyre
T. A. McIntryre made such a great impression on William Shanks that he employed him on the spot. In 1896, he became East Coast Traveller for Shanks, covering a large area from Newcastle to Aberdeen, until he was made manager of the London branch in 1898. He was made director in 1919. McIntyre retired after 50 years' service in 1946.
Robert S. Gardiner
Another long term employee with the company was Robert S Gardiner. Robert joined the drawing office in 1908, and it was said his knowledge of commercial art was quite unequalled by anyone else in the dept. His work was so good that it was decided to build a subsidiary department around him to deal exclusively with catalogues and advertising. In 1937 the drawing and catalogue departments were merged and he took over both. He retired 1950.
J. G. Mills
In 1946. J. G. Mills took over full responsibility for affairs in India. He eventually became Export Sales Manager and then joined the board as Sales Director of the company. J G Mills wrote a follow up book to The First Hundred Years by Gilbert Shanks. This chronicled the company history from 1951 to its merger with Armitage in 1969, and has provided a lot of information for these pages.