 The Shanks Family
The passion and dedication of the Shanks family was undoubtedly one of the key reasons for the company's continued growth and success. The original founders John and Andrew were succeeded by several generations of the family who all made their mark on the company's history.
John Shanks (1826-1895)
You can find an article on John Shanks in the People section of our website
Although Andrew died in 1893 and John two years later, the Shanks family continued to run the company until it merged with Armitage Shanks in 1969. Here we look at some family members who played key roles in the business.
William Shanks (1858 – 1929)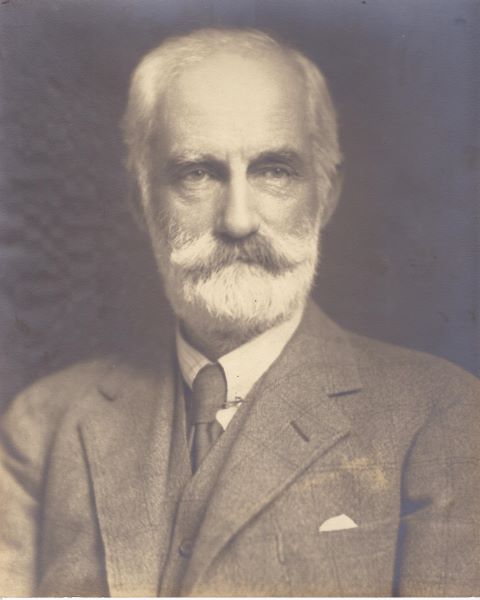 William was the son of Andrew Ferrier Shanks, one of the original founders of the business. He joined the company in 1875 eventually becoming Managing Director. William was reputed to be a man of great intellect and talent, and served as the 1st Provost of the newly formed Burgh of Barrhead in 1893.
At that time, aged 35, he was the youngest provost in Scotland. When elected, it is said that all work was suspended at the Tubal while the workforce celebrated, marching around the town in an improvised procession, playing music and carrying a portrait of William at their head.
Given his day job, it seems apt that one of his first acts as Provost was to introduce a proper system of sewage disposal to the town. He dedicated 35 years to serving on the town council, was a Justice of the Peace for Renfrew County and a Sabbath school teacher for 50 years.
William completed 50 years' service with Shanks in 1925, just a few short years before his death. To mark the occasion, a dinner was arranged at the Central Hotel followed by a larger function in the Clark Town Hall, Paisley.
William's personal interests were many and he was particularly passionate about music. He was said to have a fine bass voice and was fond of performing locally.
In The First Hundred Years, his son Gilbert writes of him:
"He could best be described as a pillar of strength rather than a driving force, and his power lay in the influence of his strong personality on everyone at all levels in the business and to the impact of his sagacious mind on the day-to-day problems. To these qualities he added a warm and genial nature and – that very vital thing- the saving grace of humour. He was greatly looked up to and inspired the respect, loyalty and devotion of everyone in the business"
William passed away in 1929, aged 73, after undergoing an operation in London. He left behind his wife, seven sons and one daughter. His death was mourned by many in Barrhead.
John Cochrane Shanks (1866 – 1917)
John was the son of Andrew F. Shanks and brother to William. He joined the company on leaving school and in 1886, became manager of Shanks' new premises in West Nile Street, Glasgow. He soon expanded the business, and moved to a larger showroom in St. Vincent's Street which became very successful. In 1911, John was elected to the board.
John was known as John Tertius to distinguish him from the two other John Shanks. However on the death of John, the founder, he took the name John Cochrane Shanks.
John moved to Glasgow after marrying Ethel M. Cochrane from Canada and lived in Kelvinside.
Outside the business he was involved heavily in political and temperance work, was an active member of the Liberal Association and was on the Executive Committee of the Permissive Bill and Temperance Association. A cultured man, he was said to have a wide knowledge of art and literature. John died in August 1917, at the early age of 53, and was buried in Neilston Cemetery.
Andrew Shanks (c.1884 – unknown)
Another son of William's, Andrew, joined the company in 1898. He was first sent to the Iron Pattern Shop for some practical experience while taking engineering classes at night. In his later career he concentrated on export and travelled widely, expanding the company's reach world-wide. He joined the board in 1934 and became Director in Charge of Export. He also followed the family tradition of pursuing public office and was Provost of Barrhead from 1952-55. He retired from Shanks in 1955.
Andrew inherited his father's love of music and in 1908 left the company for a number of years to pursue this as a career. He enrolled in the Royal Academy of Music and joined the Beecham Opera Company which toured London theatres during WW1. Andrew was said to have a 'tremendous stage presence and a great vocal range' and sang many famous baritone roles. In his book Lest We Forget local historian James McWhirter recalls Andrew filling the Glen Hall with the sound of his favourite song King Charles.
Gilbert Shanks (1889 – 1983)
Gilbert was one of William Shanks' sons and we are indebted to him for his record of the company's history The First Hundred Years (1851 – 1951), which has provided much of the information for this exhibition.
Gilbert joined the company in 1906, beginning his career in the drawing office. This was the department which produced the beautiful catalogues that we have in our collection today. Gilbert progressed steadily through the company, becoming Commercial Manager and being appointed to the board in 1919. A year later, he became a Managing Director along with his cousin Ronald, with whom he also later shared the Chairmanship. After many years, he stood down when the Chairmanship passed to Kenneth Shanks in 1964.
Ronald Shanks (1893 – 1961 )
Ronald Shanks was the grandson of the original founder John and joined the company in 1910, beginning his career at the Victorian Pottery. In 1919 he became a member of the board along with his cousin Gilbert. Ronald's expertise was in the smooth operation of the factories, and in 1918 when Shanks acquired Longpark Pottery in Kilmarnock, Ronald took over as manager. In 1919 he took over the new works at Victoria Road and in 1920 became a Managing Director.
Ronald was a strong personality who made a big impact on those around him. In his company history The Last Two Decades, J G Mills write of Ronald:
Ronald was responsible for production in our many manufacturing units, and allied to a lifetime's experience of our manifold wares, he could, when he chose, exert a drive so remarkable as to be felt in every corner of our factories. His wrath was a terrible thing to encounter, but he was always fair, and loyal to the point of indulgence, to his subordinates.
Sadly Ronald died unexpectedly in 1961.