 The Works
The Shanks factory began on a site on Main Street but grew rapidly and eventually the company expanded to a second site on Victoria Road.
John Shanks' Tubal Foundry on Main Street quickly grew to occupy a large area on a piece of land which was once known locally as the Bubbly Braes. Today's Barrhead Foundry complex now stands partly on this site, and the name of the centre was chosen to connect to the area's strong industrial heritage.
Shanks was producing a wide range of materials at the Tubal Works: brass, iron, sheet metal, woodwork, marble and more. However, there was one important component that they were unable to produce, that being potteryware. Instead, they had to rely on purchasing this from outside suppliers.
In 1899, a decision was made to build a separate factory to produce sanitary fireclay, and Herbert Ansell was employed to supervise the build and manage the new works, which was to be known as the Victorian Pottery. In a short time, Ansell had the factory up and running and making a profit but left shortly afterwards, at which point another son of William's, Douglas Shanks, became manager.
In the years following, both sites began to grow, with new buildings being added gradually, as departments were reorganised and expanded.
After WW1 even more expansion was planned, but it soon became evident that both the Tubal Works and the Victorian Pottery sites were becoming overcrowded. It was decided that a new foundry should be built on a piece of land adjacent to the Pottery, and in 1924, all the works at the Tubal moved over to the new site, with the exception of the brass shop. You can see both the Victorian Pottery and the new Tubal Works in the photograph below, which was taken in the 1930s.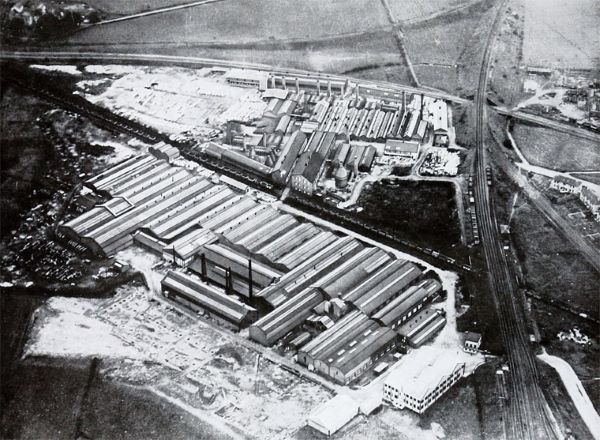 An interesting aside to the story of the works was that the new location took Shanks just outside the boundary of Barrhead Burgh. The Town Council, dismayed at losing the rates from Shanks, duly petitioned to have the boundary revised. To be successful, they needed support from the company itself, but for Shanks it wasn't so straightforward. The Burgh rates would actually be more costly to Shanks than the County ones. Therefore, Shanks cannily agreed to support the Town Council if the council agreed to build them a road giving direct access into the works. The result of this agreement was Victoria Road which was competed in 1931.