 Home & Abroad
From its beginnings in Barrhead, Shanks & Co. expanded to encompass a network of offices and showrooms across the UK.
From the early years of the company, their goods were recognised as high quality and were in demand across the globe. This allowed them to develop a strong export business, which in later years led to the opening of factories in other countries. You can still find examples of their products all over the world, and it is even said the Dalai Lama had a Shanks toilet in his palace in Tibet!
An early example of a successful export was The Levern (pictured below); a cast iron well-bottomed flushing cistern. In 1895, the Metropolitan Board of Works, in Melbourne Australia, ordered 8000 of these cisterns to be installed across the city. However, the main buyer was Argentina. In 1909, 15,000 cisterns were exported there, rising to 22,000 in 1910. Such was their dominance in the market that it is said that in Argentina, a flushing cistern became known as 'a Shanks'.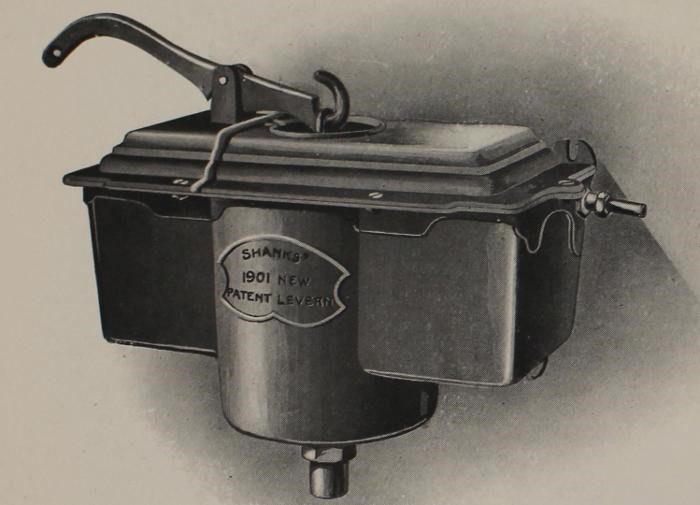 Other early markets for these cisterns were India, Egypt and Denmark as well as several British colonies. Trade was disrupted by the advent of World War 1 which made foreign travel impossible, and it wasn't until after the war that the company were able to further their expansion overseas. They began to appoint representatives in different countries to work on a commission basis, and also sold their products through other manufacturers who produced allied goods.
In the Barrhead News of 25th April 1966, an article on Barrhead and Shanks gives an insight into just how prolific their overseas market had become. It states that the company exported to:
West Africa, Malaysia, Thailand, Hong Kong, Borneo, Pakistan, India, Australia, New Zealand, Iraq, Iran, Kuwait, Saudia Arabia, Aden, Trucial States of Oman, Malta, Gibraltar, Norway, Sweden, Denmark, Canada, South Africa, Southern Rhodesia, Northern Rhodesia, Nyasaland, Kenya, Tanganyika and Sudan.
…which also provides an interesting glimpse into a  world map quite different from the one we know today!
However, as the 20th century progressed, changes on the world stage had an impact on the company's overseas trade. As the British Empire faded and The Commonwealth was born, former colonies began to decrease their dependence on importing manufactured goods, and began to reduce or stop ordering from Shanks. To counteract this, Shanks moved from exporting to opening factories abroad, for example in Pretoria, South Africa, Kuala Lumpur and Malaysia as well as in Ireland and Thailand.